Eastern Shore Rural Health provides "School-Based Dental Services" to children ages 3 through 18 years of age. The clinics are open year-round from 8:30 a.m. to 5:00 p.m.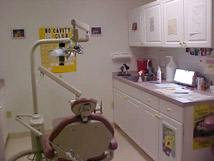 We welcome students/children to each of the dental sites regardless of the school they attend. A pediatric dentist is on site two days each week who can see children locall for referrals, this eliminating the need to travel to Tidewater or Maryland for services. During the summer, children of migrant workers aged 3 to 21 years may receive services whether or not they are attending school.

Preventive and restorative dental services are provided by a licensed dentist at two dental clinics.

Clinic locations are given below. When you go, the clinic will be found behind the schools.


Please call ahead for an appointment
Metompkin Elementary School Dental Clinic
24501 Parksley Road
Parksley, VA 23421
(757) 665-1159


Pungoteague Elementary School Dental Clinic
28480 Bobtown Road
Melfa, VA 23410
(757) 789-7777
(757) 789-7778 FAX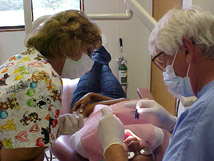 The Accomack County School-Based Dental Program is operated by Eastern Shore Rural Health Systems, Inc. The dental program is fully accredited by the Joint Commission on the Accreditation of Health Care Organizations.

The Virginia Health Care Foundation provides partial funding for the dental providers.




The program accepts Medicaid, FAMIS and many private dental insurances. We also offer a sliding scale fee to children who qualify for the "Free and Reduced Lunch Program".

Accomack County's School-Based Dental Program has received national recognition as a "Model That Works" from the Bureau of Primary Health Care, of the U.S. Dept. of Health and Human Services. The program has been replicated in many states.